The Power of Dental & Medical Volunteer Travel
Millions of villagers worldwide don't have access to proper medical and dental care.
As a result, they are forced to forgo necessary treatment and must tolerate a life of pain and discomfort. Volunteering your time and expertise abroad not only provides a life-changing experience for them, but you leave with a renewed focus and passion for your profession.
Great Need – Great Opportunity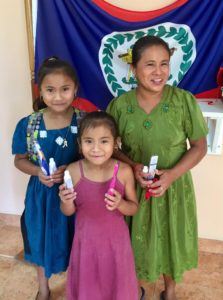 For optimal dental health, the World Health Organization recommends a dentist to population ratio of 1 to 7,500. In the Toledo District of Belize, an area Strong Villages serves, the government provides one dentist to serve 31,000 people. Since 80% of the population live in rural villages, access to the sole dentist becomes difficult to impossible. The need is strong. Thankfully, our resolve is stronger.
From Adventure to Altruism
From adventure to altruism, medical and dental volunteer travel is fulfilling on so many levels.

Traveling the globe to provide care gives professionals invaluable insights to how healthcare is delivered around the world.
Doing more with less is deeply rewarding.
Helping alleviate suffering is powerful. Doing so in a tropical rainforest is unforgettable.
The Power of YOU
Traveling with Strong Villages, medical and dental volunteers use their skills to help those with limited access to care while exploring fascinating destinations. The difference you can make in just 5-6 days cannot be underestimated. If you're a dentist, removing wisdom teeth is a routine procedure. Imagine enduring six months of pain from an impacted tooth. You and your patients wouldn't tolerate six hours of discomfort before seeking relief. For many underserved villagers, six months IS "immediate relief".
By increasing access to care, suffering is relieved and hope for a healthier future is restored. That's the power of YOU.
Why delay taking the trip of your life? A loving villager looks forward to meeting you. Explore all the medical and dental volunteer travel opportunities here.